Top-14 most beautiful beaches in Greece
12. Porto Katsiki (island Lefkada)
Porto Katsiki – an incredibly beautiful beach in Greece, on the island of Lefkada. It is the hallmark of the island.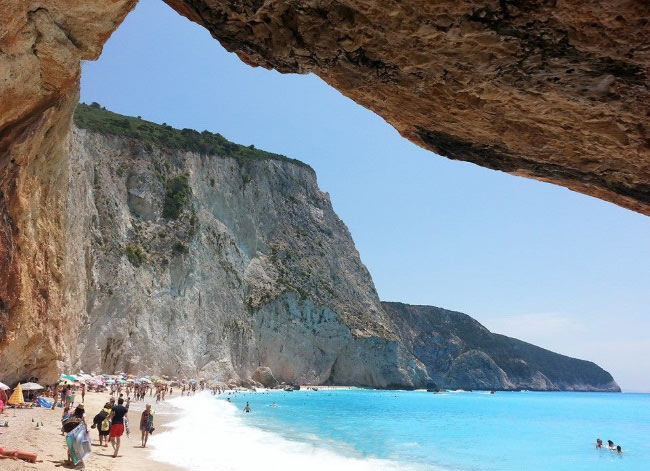 Coast strewn with large pebbles. Above it stands proudly massive rock, sheltered grassy cap. If we add here also a warm sea with bright blue water, we immediately understand why this place is so claimed. Almost always at Porto Katsiki crowded, so better to come.
Sun beds, umbrellas and other items are missing infrastructure. Wild beach and everything you need need to take with you.
To get to Porto Katsiki can be on the road along the west coast of Lefkada. Another option – a special ferry from Nidri or cornflowers.
13. Kathisma (island Lefkada)
Amazing Kathisma beach, 7 kilometers long – is another treasure of the island of Lefkada. White sand, turquoise sea and the chalk cliffs beach Kathisma – the dream of every tourist.

The water is very clean, but swimming is not always safe, especially with children, because there are high waves.
The area is well equipped. There are sun loungers, umbrellas, bars, cafes, showers and toilets. In addition, Kathisma Beach lovers will appreciate the water and underwater sports. For outdoor activities this coast – the perfect solution. A lot of people, but thanks to the great slowness beach is virtually imperceptible.
14. Navagio (island Zakynthos)
Navagio – the best beach in Greece for many tourists! It is a small patch of white sand, carefully tucked away in a cozy cove Zakynthos. It is surrounded by rocks and the blue sea.

A stay here is better before lunch, as the afternoon sun is hidden behind the green cap rocks.
Beach Navagio wild, not fitted. It has its own twist – ship, shipwrecked. Right in the middle of the beach lies a rusty boat smugglers, they sank to escape from the authorities on the boats. Now the sight – perfectly valid magnet for tourists.
To get to the rocks safely protected beach Navagio is possible only by water. This path runs along the blue caves. It captures and no less impressive than the bay itself.
What can be said at the end: going on holiday in Greece, tourists waiting for so many beautiful beaches, many can not offer every country!