Top-14 most beautiful beaches in Greece
9. Lalaria (island Skiathos)
The majestic cliffs with caves, white and gray pebbles rounded, transparent, like a tear, the water of the Ionian sea – all in harmony on this beautiful beach in Greece, which is the island of Skiathos. Impregnable rock surrounds it so that can only be reached by sea.
At the edge of nature carved arch of the passage through which is already made up a lot of legends. Near the beach is scattered many caves, some of them are well-known tourist attractions.
On the coast, do not meet the usual tourist infrastructure. Lalaria – insanely beautiful piece of wilderness in the original condition it. The inaccessibility, lack of sun beds, umbrellas and other beach paraphernalia relieve the beach from the large flow of tourists. This allows you to fully enjoy the tranquility and the natural grace of Lalaria.
10. Sani (Chalkidiki)
In the "best beach in Greece" and includes a list of Sani located on the Halkidiki peninsula. The long sandy coastline washed by the warm waters of the Aegean.

On the other hand surrounds an ecological reserve. Riot of greenery, white sand and azure sea – a wonderful landscape, typical beach Sani.
Of course, invested in the coastal strip at the highest level. There are umbrellas, deck chairs, bars, clubs and restaurants. plenty of opportunities there and active recreation. You can go diving and other water sports. The hotel complex, which is part of the coast, offers a wide range of services.
11. Emblisi (island Kefalonia)
Surrounded by cliffs and pine trees, lapped by the azure sea water, beautiful beach Emblisi on the Greek island of Kefalonia is the perfect place for true relaxation.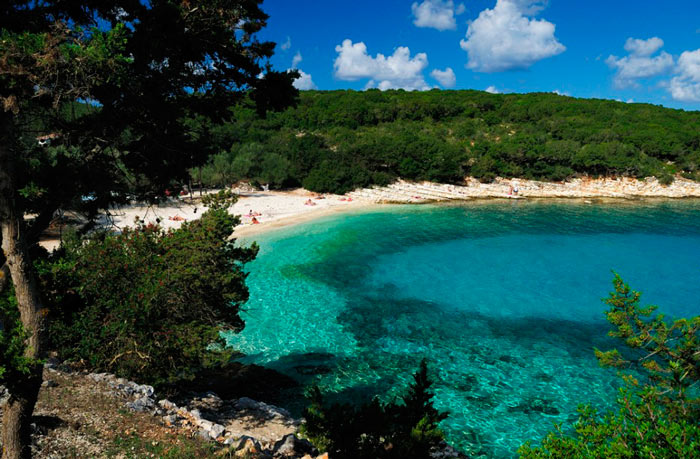 Water as glass lets in the finest detail to consider small white pebbles on the bottom. This sandy beach and magnificent pine trees allow to take refuge in the shade from the sun.
On Emblisi does not happen to many people and infrastructure, he can not boast. But there is a possibility to rent a beach chair and enjoy the peaceful atmosphere.
To get to the beach is from the village of Fiskardo in just a few minutes by car or on foot.