Top-14 most beautiful beaches in Greece
3. Manganari (island Ios)
Beautiful beach Manganari is situated on the coast of the Greek island of Ios, washed by the waters of the Aegean. It is well protected from the winds, which ensures that no high waves. Tourists are attracted here golden sand, clear water and pretty good furnished.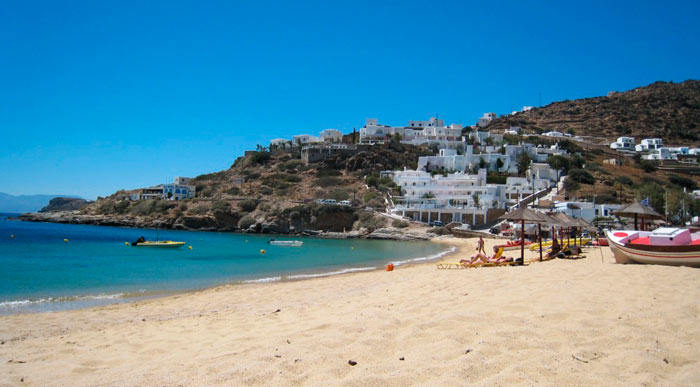 On the vast territory of the beach you can find everything you need from sun beds, beach bars and taverns to active entertainment. Here you can go diving, windsurfing and other water sports.
To get to Mangari quite simply as his car, and at one of the various forms of public transport.
Remarkable beach and the fact that it starred iconic movie scenes Luc Besson – "The Big Blue"
4. Paradise (island Mykonos)
Beach Paradise – golden sandy strip in the shape of a crescent on the island of Mykonos in Greece. Its name translates as "paradise," but it is a paradise only for young people and is not suitable for families.

its name it really lives up to the young people. The only negative – the prices are higher than at other resorts of Greece, although many are not afraid. Coast at night turns into an open-air disco. There is an expensive nightclub. During the day you can rent a sunbed and arrange a real relaxation, or, conversely, to organize leisure and diving (on the beach has its own diving center).
You can get there very quickly from Mykonos (just 20 minutes by public transport and private cars even faster).
5. Red Beach (island Santorini)
Red Beach – a unique and very beautiful beach of Greece, and in particular the island of Santorini. Coast with red pebbles surrounded by the same red rocks. They surround it on all sides, leaving only access to the crystal clear sea.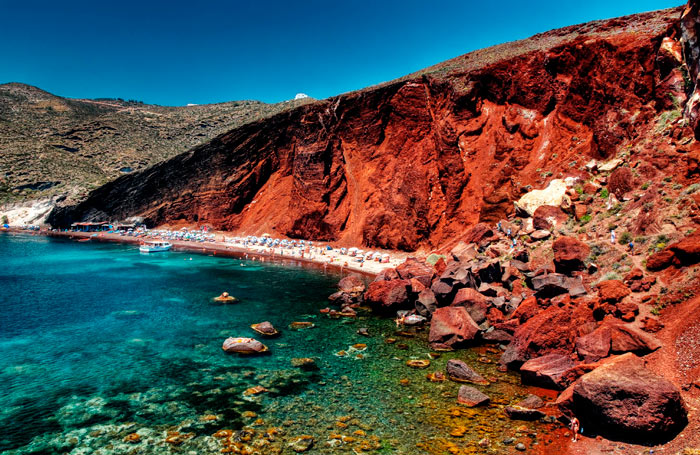 All small, but very nice beach area is dotted with sun loungers, which quickly filled with people. Right in the rock cut a cafe where you can eat.
You can get both by land and by sea. In the first case, on personal cars, which will have to leave in about fifteen minutes walk from the beach and do the rest of the way on foot. The second option – boat from Akkrotiri directly under the bank.