Top-14 most beautiful beaches in Greece
6. Vrulidiya (island Chios)
Beach Vrulidiya – treasure island of Chios, also belongs to the most beautiful and best beaches in Greece, on the Aegean coast. It is located in a cozy cove with emerald color sea. The bay is surrounded by the picturesque rocky cliffs, which protects it from the winds.
Uncrowded beach due to its difficult access, which makes it even more attractive. The underwater world of the Aegean Sea is diverse and picturesque, so diving is held in high esteem. Even the usual diving and snorkelling brings a lot of fun.
Grab a snack in a cafe, located on the cliff top. At the same time you can enjoy the stunning scenery of the bay.
7. Egremni (island Lefkada)
Egremni Beach – a long, wide strip of white sand in Greece on the island of Lefkada, contrasting with the bright blue waters of the Ionian Sea. Guarding its high cliffs. Beach is a mixture of small and medium pebbles. The depth starts almost at the coast.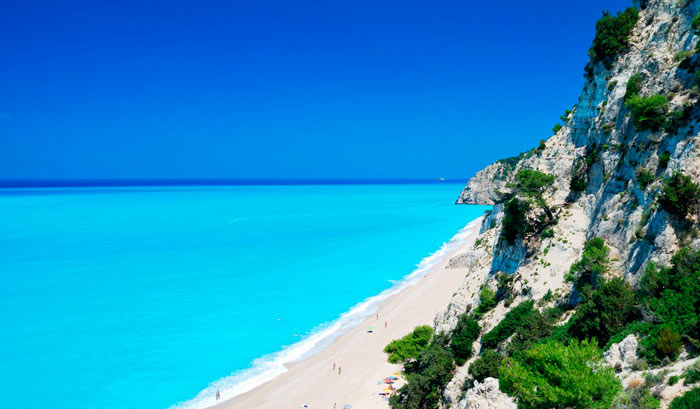 Beach inaccessibility and remoteness, so infrastructure is not the best way. But on the beach you can rent a sun lounger or enjoy a drink at the bar. Contingent of tourists here is different, however, can often be found nudists.
You can get here after passing a series of steps leading from the parking lot. They number 347.
8. Myrtos (island Kefalonia)
Myrtos – most beautiful beach of the island of Kefalonia. It has a crescent shape and is surrounded by picturesque rocks. Ionian sea is azure blue, but it is not always quiet. There are high waves, also calling in the sea abruptly goes deep, so children are rarely rest and with extreme caution.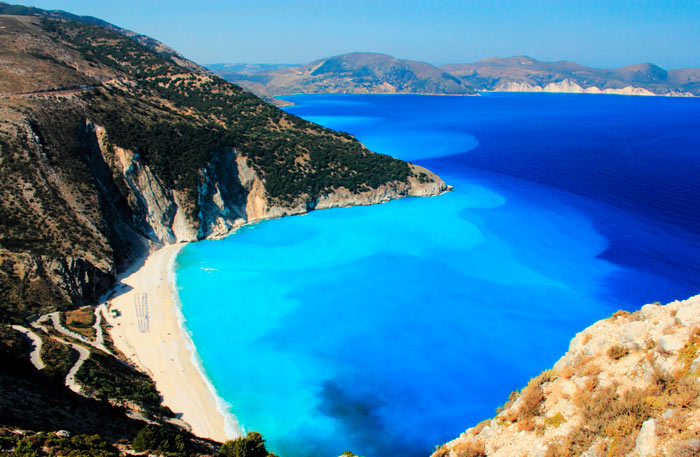 It is equipped beach medium. On the territory it is possible to rent chairs and umbrellas, shower and toilet. In the south of the beach there are some caves that harmoniously fit into the overall landscape of Eden.
To get to Myrtos can be a winding road from a small village. On the way there are observation platforms with spectacular views.