Top 12 best beaches in Croatia
Clean water and intact landscapes – the two main features of the beaches of Croatia. From Istria to Dubrovnik, with more than 1000 islands Croatia has over 6000 kilometers of coastline with an amazing variety of beaches. Family, for water sports, nudist, sandy and pebble beaches, to suit all tastes and for all kinds of travelers … Many of them are available, others are more isolated, which can be reached only by boat – but all provide a sense of pleasure in paradise. And so, let's find out what are they the best beaches in Croatia.
1. Zlatni Rat (Island of Brac)

It is located in the quiet town of Bol, on the southern island of Brac. This is probably the most famous beach in Croatia image of a golden horn, the end of the form which varies depending on the wind and tide.
This beach deepens half a kilometer into the sea and is a haven for surfers, since there is always the wind is present. Also there is a school of surfing and diving. Also worth noting is that this is one of the best beaches in Europe.
2. Bane (Dubrovnik)

It is the most popular beach in Dubrovnik and one of the most beautiful in the world, overlooking the city walls and the nearby island Lokrum. It is quite lively, with plenty of leisure and with all the amenities: hammocks, umbrellas, cabanas, sports entertainment, catamarans, bars … Especially do not miss its nightlife after sunset.
3. Beaches Proizd (Korcula)

Proizd – is a small island near the island of Korcula. It is located in the town of Vela Luka area, in the west of Korcula, where you can take a boat and sail for half an hour in this paradise with white beaches, hidden coves and clear turquoise water. Especially there are three beach, known as Bili Boci, and the northern part of the island, offering beautiful views of the neighboring island of Hvar and the open sea. For visitors there is a small restaurant next to the pier.
4. Beach Punta Rata (Brela)

Next on the list of "Best Beaches of Croatia" – Punta Rata. This is a family beach, included in the top ten beaches in the world by Forbes magazine. He gravel, like most of the beaches in Croatia, but the entrance to the sea sand, making it ideal for families with children. Surrounded by pine trees, which provide shade to shelter from the hot sun. With infrastructure available there are bars and restaurants nearby as well as places where you can rent equipment for water sports.
5. Beach Stiniva (island of Vis)

Beautiful and secluded coves a length of only 30 meters, hidden among the rocks. Located in the southern part of the island. It can be reached by a narrow path (it's not very easy) or by boat. Stiniva – a natural, wild and perfect landscape, and undoubtedly one of the best beaches in Croatia.
6. Podvrske (island of Murter)

The beach stretching for several kilometers, with an area for nudists. It has lots of sand, gravel and stones. Here you can fish and enjoy water sports such as scuba diving or water polo. Offers – dock with small boats, a place for jumping commissioning and bar.
7. Saharun (Island Dugi Otok)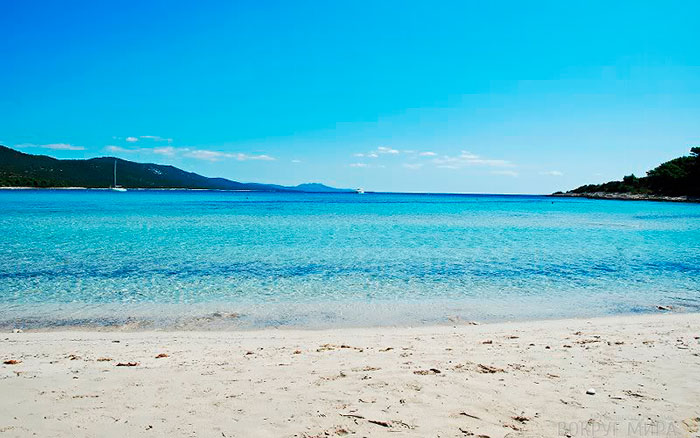 Known this Croatian beach his unpolluted white sand and clear sea. He is surrounded by pine trees, which provide a pleasant shelter from the sun. It has a length of 800 meters and the sea is not very deep, which makes it ideal for families with children. In order to have a drink or a snack, there are two bars. You can get here by train from the village Bozhava, which departs every two hours.
8. Beach Zrce (Pag)

This beach is in the north-east of the island of Pag is especially popular among young people due to its fashionable clubs where you can dance until dawn. The main clubs are Aquarius, Papaya and the NOA, which resemble the spirit of Ibiza. Besides disco, this beach provides rental of umbrellas, hammocks and other accessories for fun on the water, has a catering and rescuers.
9. Beach Rajska (Rab Island)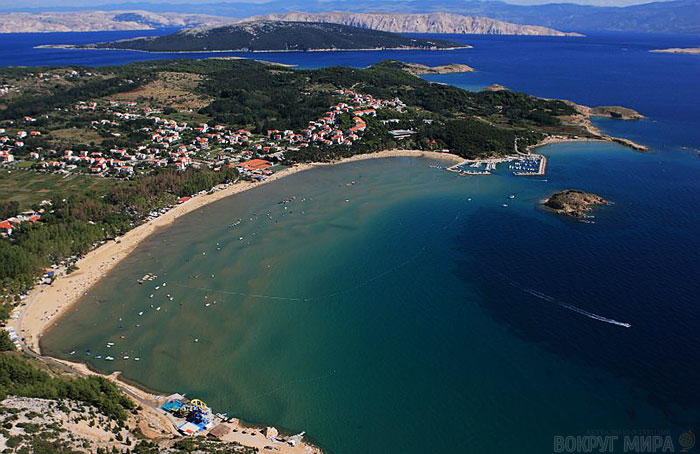 Just 12 km from the ancient town of Rab, on the same island in the open Gulf Lopar is a picturesque village known for its beautiful sandy beaches. The most famous is Rajska, 1.5 km long, with many facilities for visitors and a wide gastronomic offer. It is ideal for families with children, where they can swim in the calm, shallow sea under the supervision of lifeguard service. It is also one of the few sandy beaches on the rocky islands of Croatia.
10. Sveti Ivan (Cres)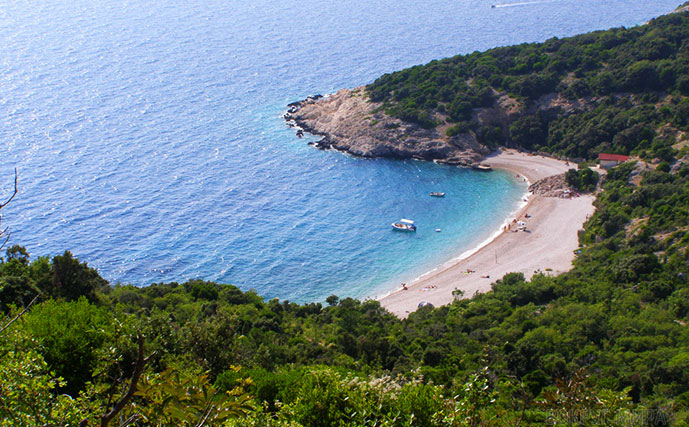 Sveti Ivan – is the most famous beach of the Croatian island of Cres, with snow white pebbles and crystal clear water. It is located at the foot of Lubenice – beautiful ancient walled city, built almost entirely of stone. This is a favorite stopping place for yachts.
Overland Sveti Ivan is accessible only on foot, but scenic 45-minute descent to a protected beach is part of its appeal. Rise back takes about one and a half hours.
Once he finished 15th out of the top 40 beaches in the world in research of the German magazine Bild.
11. Cape Kamenjak (Istria)

Cape Kamenjak, at the southern end of the Istrian peninsula, is a protected area with untouched nature and clear sea, which stretches for about 30 kilometers. Basically, there are rocky areas with an ideal bottom for diving, but there are beautiful beach areas. Further to the south is dominated by strong currents, which are ideal for windsurfing.
12. Beach Dubovica

Dubovica – beautiful beach on the coast of the popular island of Hvar. A few minutes drive from the village of Milna, the pebble beach is hidden in the emerald green lagoon, contrasting with a small group of historic stone houses, located in the hills. The calm, clear waters are ideal for a family holiday, and for diving enthusiasts.
What can I say finally … Croatia – a wonderful country, especially when it comes to beach holidays. If you plan to spend your next holiday as always in Turkey or Egypt, for example, it is better to forget about these areas. Discover something new, perhaps not so popular. After all, some Croatian beaches are worthy to get into the list of "best beaches of the world".