Top 10 best beaches of Ibiza
At the mention of the words of Ibiza, the first thing that comes to mind, perhaps it is the coolest discos in the world. However, a visit to Ibiza does not necessarily mean night hangouts. An alternative way of vacation in Ibiza may be a relaxation on the beaches of this fabulous island. If about that there is any doubt, then let's look at some of the best beaches in Ibiza.
10. Playa d'en Bossa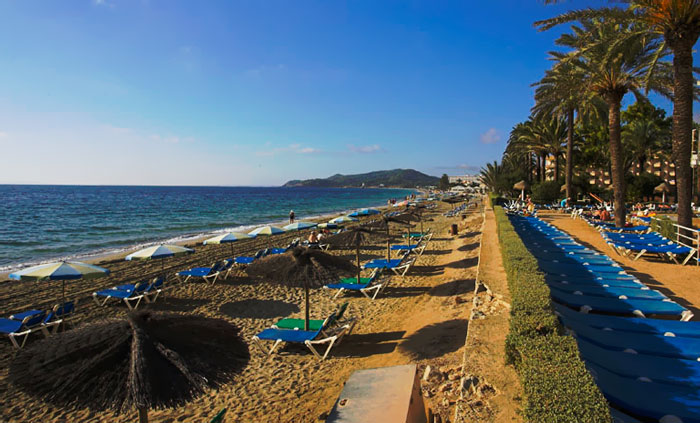 Playa d'en Bossa with its 2 km long – the longest, the most famous and is one of the best beaches in Ibiza.
Here you can find all kinds of water activities or services; plus restaurants and clubs such as the famous Bora Bora or Sirocco.
9. Sa Caleta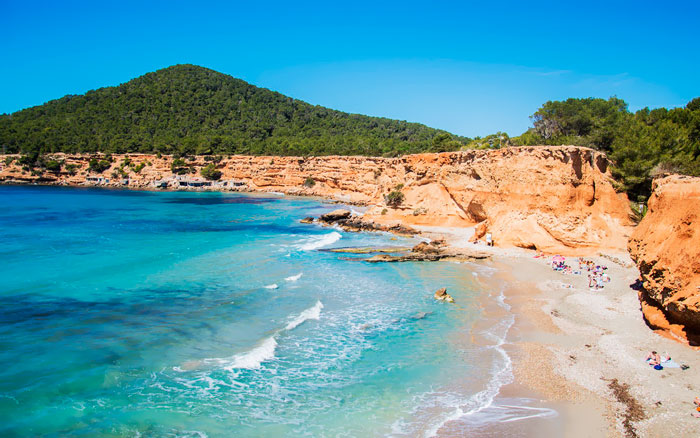 Sa Caleta Beach, also known as Es Bol Nou – a small bay about 100 meters long, is located to the south of the island. It is a quiet place, ideal for families. Location is especially popular among local zhiteley.Takzhe there is a small restaurant.
Although the place is often crowded, it's worth a visit because of the crystal clear waters, stunning scenery, which provides accommodation for the beach on a small cliff.
8. Cala Moli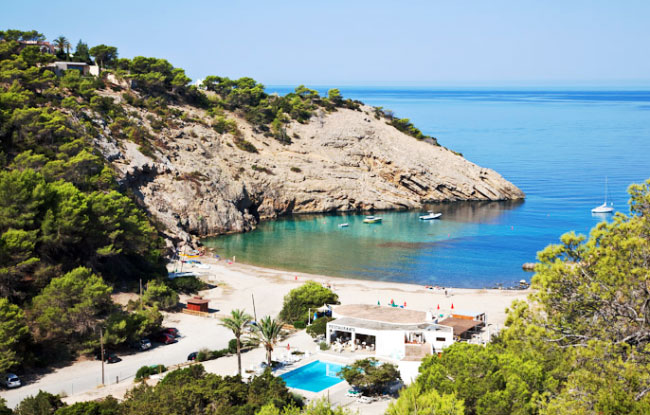 Cala Moli – tiny and one of the quietest beaches of Ibiza, near San Antonio. It is ideal for those who want to just lie in the sun and relax. But be prepared for a bit of an uncomfortable surface, since it is not a sandy beach, a pebble. In 2008 the city council of San Jose decided to return the beach to its original state and does not grant concessions on deck chairs, pedal boats, bars, etc. There is no parking, so you have to park on the roadside.
7. Cala Hondal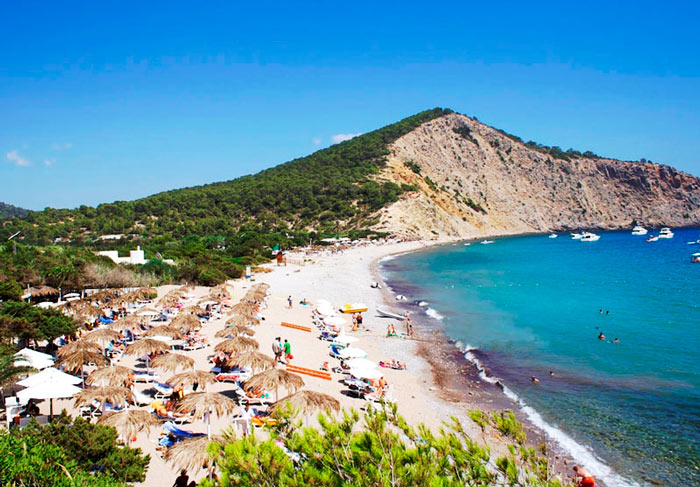 Cala Hondal – a beautiful beach with crystal clear water in a clean environment surrounded by pine trees and rocks, and is very popular with the owners of yachts. The beach is covered with pebbles instead of sand, but as soon as you enter the water, the soil is sandy ceases.
Hondal Kala is one of the best and most advanced Ibiza beaches because of its well-known clubs, including Blue Marlin, frequented by VIP-persons.
6. Cala Bassa

Cala Bassa is one of the most beautiful and best beaches in Ibiza. It is a natural pool with shallow calm turquoise waters, making it ideal for water sports. It is surrounded by a thick forest of juniper, pine and tamarind, so there are numerous places to relax in the shade of the sweltering heat. In this bay, about 250 meters long, resting both families and young people looking for relaxation. With infrastructure there are three restaurants.
5. Kavallet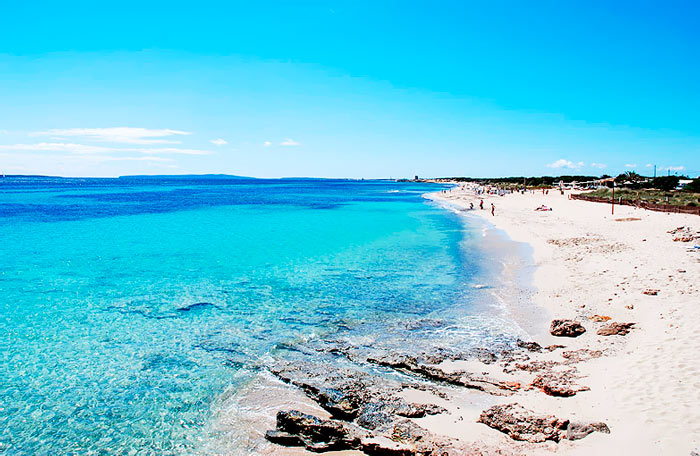 Cavallet is located in the Nature Reserve Ses Salines, and it is one of the most beautiful beaches of the island. Infrastructure is underdeveloped. It is a wild and natural, protected by dunes and a green belt of mounds. Yet it is the ideal place for experienced surfers, especially when the wind blows from the east, creating a suitable wavelength.
Cavallet can be divided into several zones. The first section, closest to the parking lot, has two exclusive restaurants frequented by celebrities; second – completely nude area; and the third section – a place where every summer there are gay men all over the world. For them, there is a snack bar (Chiringay) with disco music.
4. Venirras

Located a 10-minute drive from the town of San Miguel, it is one of the best and most famous beaches of Ibiza. By Benirras Beach can be reached along the road that passes in the hills and valleys, which makes the trip a wonderful and fun.
Benirras – a small sandy bay with charm, surrounded by pine-covered hills. Rocks that form the border of the beach, ideal for diving. However, during the high season here a massive influx of people. Because parking and even the location on the beach become mission impossible.
3. Cala Conta

Cala Conta – uneven sandy beach, about 120 meters in length, with two rocky sides in the western part of Ibiza. His clear, calm, and colorful waters make Cala Conta one of the most memorable and the beaches of the coast of Ibiza on. Here you can enjoy a beautiful sunset while listening to Ravel's Bolero.
2. Cala d'Orto

Cala d'Orto – a narrow, sandy beach with clear and calm waters. From here you can enjoy views of the mysterious island of Es Vedra, which is just a few hundred meters from the shore. In summer the beach is quite crowded. There are several bars and restaurants, from which you can enjoy a wonderful view. The beach is accessible from the road, from two different points.
1. Cala Salada

Located just north of San Antonio. It is a favorite of locals and yacht owners, and from tourists is not very much.
Cala Salada – a small and sandy, surrounded by pine-covered hills and cliffs. The waters here turquoise, clean and quiet. It is ideal for swimming and snorkeling; more adventurous can jump from the top of the rock, although this is prohibited.
Other coves and beaches of Ibiza are: Las Salinas – one of the well-known, but very crowded and the parking fee is around € 5; Cala Carbo – small, quiet, and a pebble beach; Cala Bosch – is not one of the best in Ibiza, but due to its location and difficult access it is quiet and never crowded; Cala Vadella – located in a quiet bay in the southwestern part of the island, is a beautiful beach with turquoise waters with rocks that protect bathers from wind and waves.
The conclusion is simple: if you do not like the nightlife, which is famous for the island, it is not a reason to refuse to go here, because the best beaches of Ibiza are waiting for all lovers of sun, sand and sea!