KELLY BROOK AND JEREMY PARISI
Kelly Brook and her boyfriend Jeremy Parisi soaked up the sun while vacationing in Ischia, Italy on July 14, 2016.
Advertisements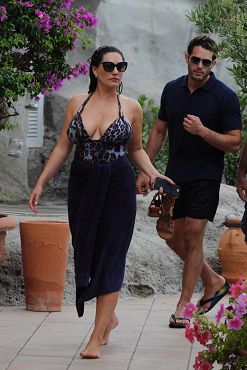 Advertisements
Kelly Brook is an English model, actress and television presenter best known for her roles in the 2010 horror comedy remake Piranha 3D and in the NBC sitcom One Big Happy.
Brook was born and raised in Rochester, Kent, as Kelly Ann Parsons. She is the daughter of Sandra Kelly, a cook, and Kenneth Parsons, a scaffolder.
She has a younger brother, Damian, and an older half-sister, Sasha. Kenneth died aged 57 in Rochester from lung cancer on 26 November 2007, during Brook's time on Strictly Come Dancing.