Before and After Makeup Celebs: Good, Bad, and the Ugly!
#11 Sarah Michelle Geller's Look Proves Vampire Fighting is a Hard Gig
Poor Sarah Michelle Gellar! This photo shows of some dark, dark undereye circles!
Advertisements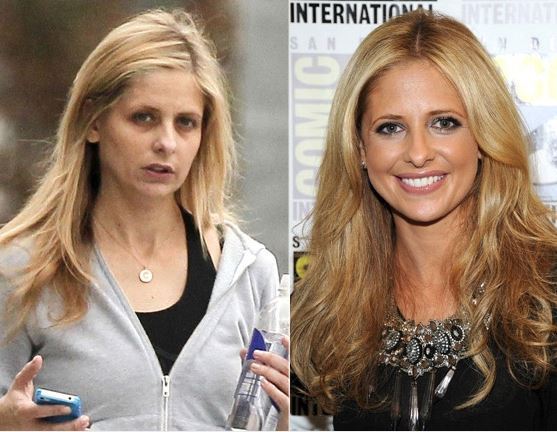 Advertisements
I guess having less-than-pretty photos hitting cyberspace is one of the (maybe the only) downfalls of celebrity-ism. But honestly, it looks like Sarah Michelle has had a night reliving her «Buffy» years fighting off vampires. More realistically, it does look like she's just completed a workout. Her skin tone isn't awful.
But, if she fears pho-togs, some undereye concealer, a pink lip gloss and little blush would work wonders. Among other things, her look on the right is achieved with either lots of bronzer or tanner, a pink pout, and mascara.